If you are seeking for a life which is far away from city rush and stress, also safe and peaceful, TUR14842, 2 Bedroom Terrace is the right project.
You will not worry about your home while out through its intelligent home technology which is equipped with 24 hours active camera security. It makes difference with its architecture while adding convenience to every moment with the latest technologies it has. The project is also eco-friendly, which is designed to save maximum energy.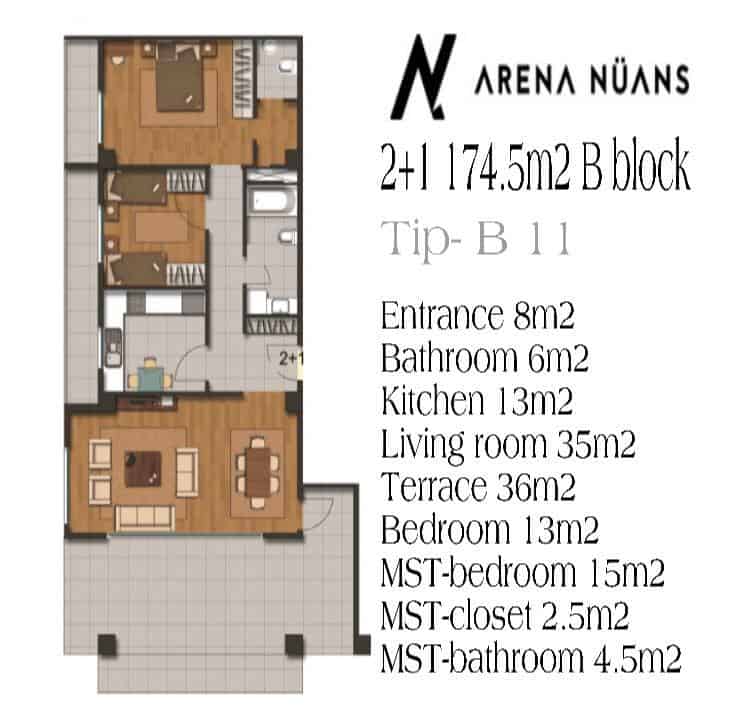 When you are on your way to home or right enter your house you can open/close the lights with one touch, or you can turn on air conditioner. Indeed, when your children are in the playground you can watch them and be sure about they are fine.
Besides these, TUR14842, 2 Bedroom Terrace is also in a very convenient location to public and private transportation. It is in the walking distance to Beylikduzu E-5 Highway so it is very close to the metro, metrobus and bus stations. Arriving Ataturk International Airport is very convenient. Indeed, it is quite close to the 3rd Airport and Metro 2019 projects.
TUR14842, 2 Bedroom Terrace is very rich in social facilities. It provides reception, landscaping, outdoor parking, outdoor and indoor swimming pools, basketball and tennis courts, children's playground, walking and cycling way, fitness center, Turkish Bath, cauna, cafeteria and housekeeping for its residents.